Leather Helm
by Baron Sir Gerhard Kendal
from an original by His Lordship Strygo Alexandru von Talmetz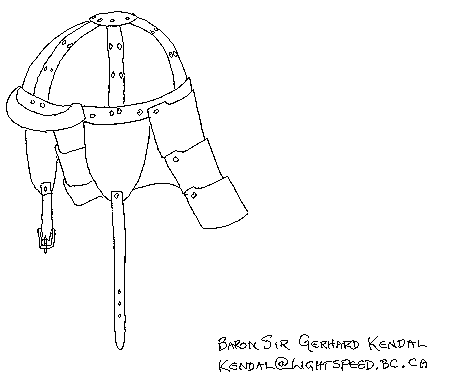 Materials
Leather. Stiff, 6-10 ounce. Heavier is better.
Quick-rivets (1/4" size, from Tandy) - approximately 64 needed
Dye (if desired)
Tools
Sharp knife (such as Olfa snap-knife, Xacto, razor blades, etc.)
Hole punch
Patterns (Click on thumbnail for full-size image)
All of the pieces save for two will print fullsize on 8 1/2 by 11 paper.
The Back Skirt and the Top center pieces are too big to fit on 8 1/2 by 11 paper so they are supplied in half size as well as full size so that they can be printed.
You will have to print the fullsize ones on two pieces of paper and piece them together to match the shape of the halfsize one.
Making your Prototype
Lay out all the pattern pieces on some lightweight cardboard and cut them out. Make the head band and top band a bit longer.
Assemble the cardboard pieces in the order shown below, using tape to hold things together instead of rivets. This step will save you some frustration and money.
To fit the helmet. put your fencing mask on your head, then fit the headband of the helmet. It should be snug, but not tight, and the join should be at the centre back. With the mask still on, fit the top band.
You can now remove the fencing mask and cardboard bits and finish assembling the helmet.
Once you are satisfied with the helm (in cardboard) and how it fits
Lay out all the pattern pieces on the inside of the leather, trace them with a ball-point pen and cut them out. Do NOT punch any rivet holes yet! Instead punch your rivet holes as you go, since there has too be a certain amount of adjustment throughout. Leather is a flexible material, unlike steel
Assemble the head band and the top band and check the fit with your fencing mask on.
Rivet on the top cap, then the four top side pieces, evenly spaced.
Rivet the segments into place.
Rivet the neck flaps into place. They go on the outside as they go down.
Rivet the ear flaps on and add the visor.
Rivet on the chin straps (with the buckle fitted), then punch the holes in the other strap. This should be done with the helmet over your fencing mask.
Dye the leather (both inside and out) to a suitable colour. Black works very well.
Also recommended: dye the white parts of your fencing mask black, or cover the white with black cloth tape.